About the Barrett Law Firm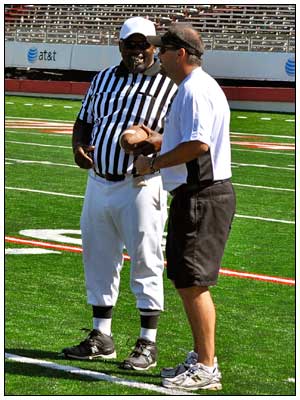 The Barrett Law Firm views lawyering as a personal service business. The client and the lawyer form a team, and in order to fully represent our clients, we make every effort to know and to understand their businesses, needs and desires. For this reason, we have acquired in-depth knowledge and training in specific industries so that positive results can be achieved promptly and efficiently for our clients.
The cost of legal services is of justifiable concern to clients. With this in mind, we welcome open discussion about creative methods of compensation to aid in control of legal costs.
Gary J. Barrett, Founding Partner
Gary J. Barrett is the founding Partner of the Barrett Law Firm. Mr. Barrett focuses his practice on significant, complex business litigation in federal and state courts claims involving class actions, securities fraud, business torts, trade secrets, and breach of contract, among others.
Gary provides a full set of advocacy services for the corporate client, representing corporations in dispute with competitors, employees, vendors and customers. He counsels business clients to find ways to avoid disputes but, when disputes arise, has the focus and experience to bring a favorable resolution economically and efficiently, whether by settlement, mediation, arbitration, or trial and appeal.
He is currently licensed to practice law in all state and federal courts in Missouri and Arkansas. He graduated high school from Greene County Tech in Paragould, Arkansas and received his undergraduate degree from Arkansas State University. Mr. Barrett received his Juris Doctorate from the William H. Bowen School of Law located in Little Rock, Arkansas.
When Gary is not representing his clients he is the Secretary/Treasurer of the Pulaski Heights Youth Football Organization and is heavily involved in the Boys and Girls Club of Central Arkansas, Junior Deputy Baseball Program and the Lifechamps Youth Sports Organization. Gary is an avid football fan and belongs to both the Razorback Foundation and Arkansas State Alumni Association.
Gary is married to Kaylynn has two sons, Tanner and Ty.
We are honored to serve a wide array of clients, including:

• Transplace, LP
• Transplace Stuttgart, LP
• Boomerang Transportation, Inc.
• Wishbone Equipment, Inc.
• J S Properties, LLC
• Nixa Trucking, Inc.
• Agri Process Innovations, Inc.
• A P Fabrications, LLC
• HLN Services, LTD
• Hanjin Shipping
• JDV Company, Inc.

• Pheasant Land, Inc.
• Big Five Trucking, LLC
• A & M Holdings, LLC
• Best Express, LLC
• KDC Enterprises, Inc.
• Thompson Trice Realty, Inc.
• Ground Zero Logistics, LLC
• H & W Land & Cattle, LLC
• Tradewinds Transportation, LLC
• W.S. Bell Cartage
• Vaughn Dirtworks, LLC